During his tenure as curator at the Library of Congress Harry L. Katz served as a recommending officer for the Library of Congress, meeting with leading artists and collectors, or their heirs, to evaluate and appraise potential purchases or gifts. Katz wrote acquisitions objectives and guidelines for gifts and purchases by the Library of Congress, including valuation and justification. As an independent appraiser he continues to work with individuals and organizations to value and describe holdings of works on paper.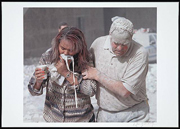 9/11 Works on Paper — led initiative to acquire and create pictorial archives comprising several thousand documentary and fine art works on paper related to the September 11th, 2001, terrorist attacks carried out in New York City, Washington, DC, and Shanksville, Pennsylvania. 2001-2002
Robert Blackburn Workshop, archives of pioneering African American printmaker Robert Blackburn. Gift of Madison Council, 2003.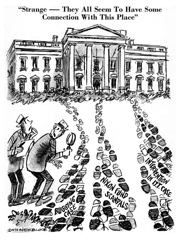 Herbert Block Papers, The entire personal archives of Herblock, the nation's foremost editorial cartoonist. Gift of The Herb Block Foundation, 2003
Art Wood Collection of Original Cartoon Art, world's largest, most comprehensive private collection of original American and European cartoons, caricatures, and illustrations by leading masters of the past three centuries, includes 36,000 works by 2,800 artists spanning three centuries.  More than doubled Library's already outstanding holdings in the field. Gift/Purchase, 2002
Sam Willner collection of American realist art, 1910-1960. Comprising 716 items including drawings, prints, photographs; 3 posters. Important collection of political art formed by a close friend of Maurice Becker.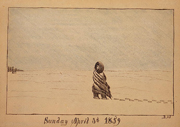 Daniel A. Jenks, Drawings of an Overland Trip from Missouri to Pike's Peak in Colorado and then to Gold Mines at Yreka, California, 1859-60. An extraordinary group of twenty ink and watercolor drawings recording Jenks' travel by wagon train from the Santa Fe Trail to the gold fields of northern California, arranged and composed as in storyboards for some cinematic epic. Madison Council special purchase, 2000.
Michael Seymour, Illustrated Tour of a British Naval Officer, 1846. Portfolio of thirty-five nineteenth-century documentary drawings of American scenes by a British naval officer. Includes views of Albany, Sarasota, Boston, Buffalo and Niagara Falls, New York City, Philadelphia, and the Capitol at Washington, D.C.  Purchase, 2000.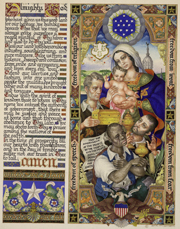 Three masterpieces of illuminated Americana by Polish American illustrator Arthur Szyk: the Declaration of Independence, the Bill of Rights, and the Four Freedoms Prayer. Gift of the artist's daughter and a local collector, 1999.
Pat Oliphant cartoon drawings and sketch-books. Sixty works by influential American editorial cartoonist. Gift/purchase from the artist, 1998
Marian S. Carson Collection of Americana (Co-curator). Private collection of early Americana: historical manuscripts, photographs, prints and drawings identified by Librarian of Congress as the institution's most significant 20th-century acquisition of Americana. Gift/purchase from Marian Carson and the Madison Council, 1996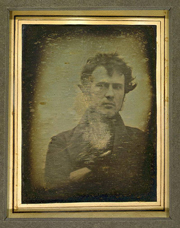 Jules Feiffer papers.  Literary manuscripts and almost two thousand drawings and illustrations. Gift of the artist, 1996.
Oliver W. Harrington. Cartoons and illustrations by internationally renowned African American cartoonist. Purchased from the artist, 1995.
George Sturman Collection of Cartoon Art. Extensive and significant collection of original drawings for early American comic strips. Gift/purchase from George Sturman. 1994
John Rubens Smith Collection. Personal archives of influential early nineteenth century topographical artist and drawing master. Gift/purchase, acquired as eponymous one hundred millionth accession by the Library of Congress Madison Council, 1993
The Forum Magazine. More than five hundred original illustrations by leading American illustrators, 1923 – 1931, for magazine of commentary and opinion. Works by Thomas Handforth, Mary Cecil Allen, Louis Lozowick, Cyrus Baldridge, Howard Cook, Winold Reiss, and others. Purchase, 1992
Artworks by John Sartain, James Gillray, Clare Leighton, Edward Hagedorn, Paul Conrad, Henrik Drescher, Al Hirschfeld, David Levine, Ed Sorel, Winsor McCay, Everett Shinn, Oscar Cesare, and Alfred Frueh, among others. Gift and purchase, 1991-2004